Despite its popularity, Google is sunsetting Inbox at the end of March 2019. If you're a passionate Inbox user looking around for the best Google Inbox alternative, we at Loop Email believe we have something special for you.
Welcome, all Google Inbox refugees, to Loop Email app!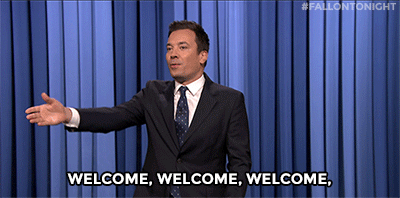 Loop Email is a beautifully designed (our user's words!) email messaging app, voted App of the day on its launch at Product Hunt. Besides meeting your email needs, it's also offer some exciting new features to help you work better with your teams, co-workers, and clients.
Here is why Loop Email can serve as a great alternative to Google Inbox:
1. It lets you chat with people – from your inbox
Loop Email seamlessly combines e-mail and chat. As regular email is still considered the de-facto communication tool at work, many people do not expect an answer within the first 24 hours.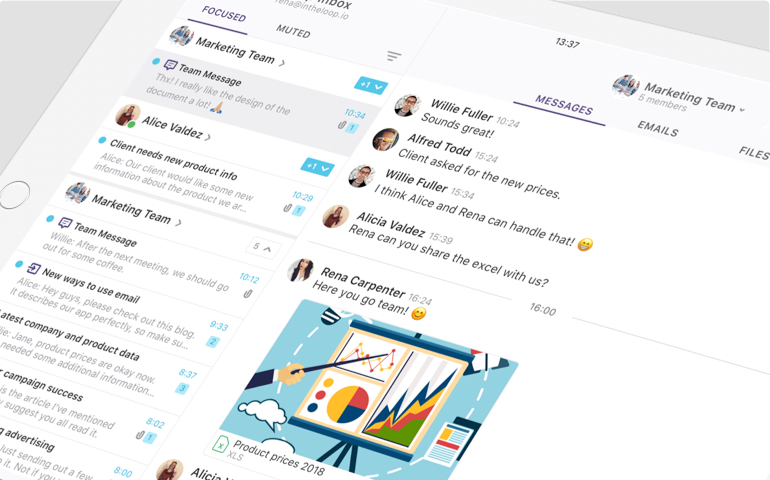 Chat, on the other hand, is much more instant and straight to the point. You will be able to see who is typing a message in real-time as well as their availability (online or not) – just the way you're used to on chat apps. With chat in Loop Email you can also message entire teams that you set up around your departments, projects, …
Other collaboration platforms (for example Slack), work alongside email and are always seen as an add-on. With Loop, you can have one platform for all your communication needs.
In a nutshell, Loop is email at its core but with the added superpowers of chat messaging.
2. It enables you to have a private chat around and about an email/thread
Wondering where pur app got its name? Well … ever heard of "staying in the loop?" Loop Email enables you to share emails with your team so you can easily chat around and about them.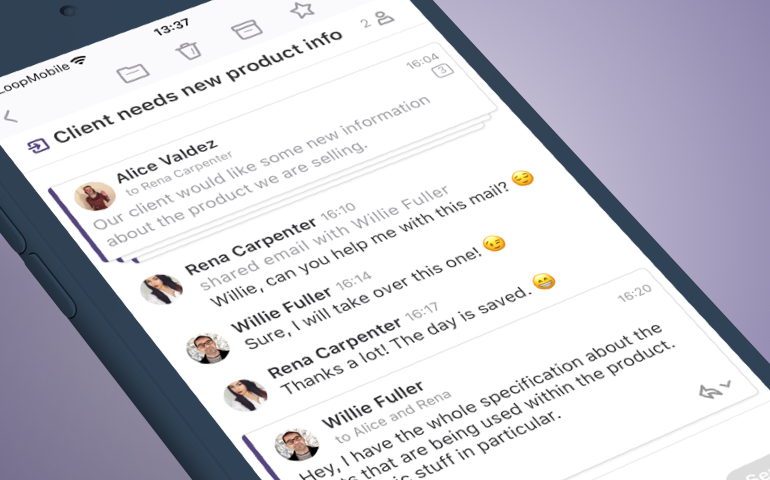 Whether you need support from your team on a customer request or you're just looking for quick sign-off, our flagship feature, Loops, help you do that faster. As a result, your team can be on the same page without the need for multiple threads or conversations. Everyone can stay in the loop!
3. Channels can work as the Inbox alternative
Simple to set-up and implement, working seamlessly with your existing inbox, we believe this is the best alternative to Google Inbox's batch grouping.
Channels inside Loop Email sort all business emails, chats and files around a contact. This way your work is automatically organized without you even lifting a finger!
Loop Email doesn't stop at individual stream though: as we've already mentioned, it enable you to create teams of people. All you have to do is choose a name for your team and add their email addresses. All messages, files, and emails will be organized inside the team channel. You won't have to switch between different apps to get the work with your team done.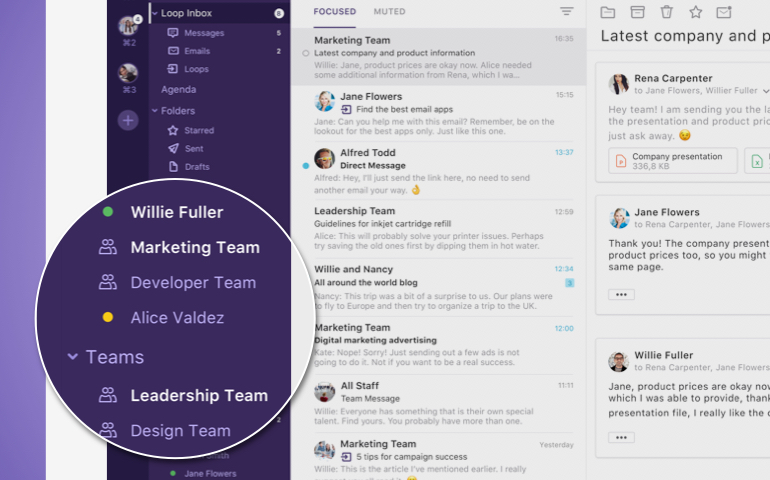 In April 2019 we are enhancing Loop Email with a brand new feature – Shared Inbox. As the word implies, it can be shared with other team members. For instance, if your business has a public domain account (like info@, sales@, support@ or office@) or you carry out a lot of customer support, sales, … through email, then a Shared Inbox will work wonders for you.

With Shared Inbox on Loop Email your team will be able to chat around every email, assign particular emails to individuals and most importantly have everything organized in one place to avoid any missed opportunities.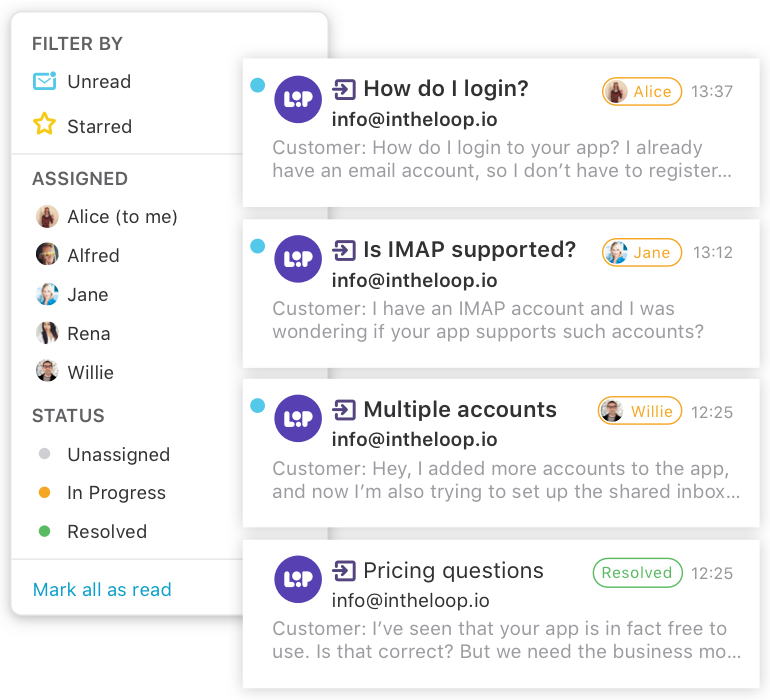 Get in the loop today!
Switching from Google Inbox to Loop Email is very easy. With a quick, one-time log-in with your existing email address, you'll be up and running on Windows, Linux, iOS, and Mac.in no time. The release of Loop Email for Android is also just around the corner, so stay tuned! On top of your Gmail, it supports Exchange, IMAP and Office365 accounts.