Having active customers and prospects that send you lots of enquiries can be a huge blessing for any business. But at some point, the volume of incoming emails becomes simply too much to handle for any single person.
That's when teams often start using tools that allow multiple members of a team to view and reply to emails sent to a shared email address, such as info@, contact@, support@ or orders@yourcompany.com
Here at Loop, shared inboxes are our bread and butter. We've spent the last few years solely focused on building a simple yet powerful shared inbox that gives teams the feeling of control and ease in their daily workflows. After speaking to, and onboarding, hundreds of teams from across industries, in this article we have a few tips for picking the best shared inbox tool for teams that are ready to get their shared emails under control.
You'll find out:
What teams use before they upgrade to a shared inbox
Signs that a team actually needs a shared inbox
What to pay attention to when picking a shared inbox tool
The 9 best shared inbox tools on the market right now
Key shared inbox features
How to upgrade to a shared inbox if you're ready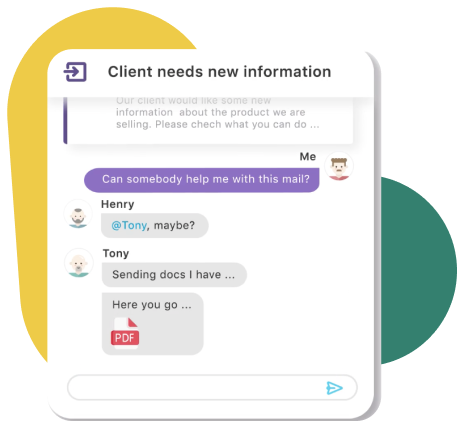 What teams use before they upgrade to a shared inbox
If you're considering a shared inbox tool, you may have "made do" till now, utilizing basic email or legacy systems. There's absolutely nothing wrong with using a system that works until you outgrow it, and shared inboxes certainly aren't right for every team.
Different systems have different benefits and limitations. Until now you may have been using:
Distribution lists – which are great if all you need is to make sure everyone sees incoming emails in their own email inbox, but don't need your team to actually respond to these messages
Shared mailboxes in Outlook/Gmail – which are a great start to managing emails as a team but their setup can get clunky and they often miss some key additional functionality
Sharing login details – the old school way of setting rotas for when different team members are responsible for the shared email address, but causes immense confusion about what's been truly handled, misses important messages and requires constant back-and-forth
Help desk – a great tool for customer support teams, but often not appropriate for wider team that's staying in sync on all customer enquiries, or for teams that don't want to treat customers as tickets
A mix of tools – you might use email, Slack, help desk and still need to shout across the office to try and get a customer enquiry resolved. Having a toolbox is great until context switching and the tools themselves start eating into your productivity.
A shared inbox tool that no longer satisfies your needs – you may already be using a shared inbox software that's grown too expensive, too complex, or is missing some key functionality.
When does a team actually need a shared inbox?
Shared inbox tools are incredible help when it comes to many well-defined and clear use cases. Before you decide to go with a shared inbox as your solution, it's useful to clarify which ones of these feel most relevant to you and your team, as it will help you pick the best specific provider for your particular needs.
Signs that your team should be looking at a shared inbox solution include:
Large volume of enquiries – you're receiving more email communication each day than a single person on your team can completely manage (end to end) on their own
More than one person handling replies – if you're already sharing replies to messages between a few members of your team, it might be time to upgrade to a purpose-built tool
Email is handled by different shifts that need to pass on details of previous conversations – following a thread of a conversation without complicated hand-off is almost impossible in traditional email tools
You're in a business where speed of replies is key – so each team member, no matter where they are, needs to have access to all relevant information and new incoming messages at the right time
You use multiple public email addresses – and your team needs one tool to manage all of them, without having to switch tools or tabs
You lack visibility into what's going on – and often find yourself wondering whether a message has been handled and whether workload is evenly distributed across your team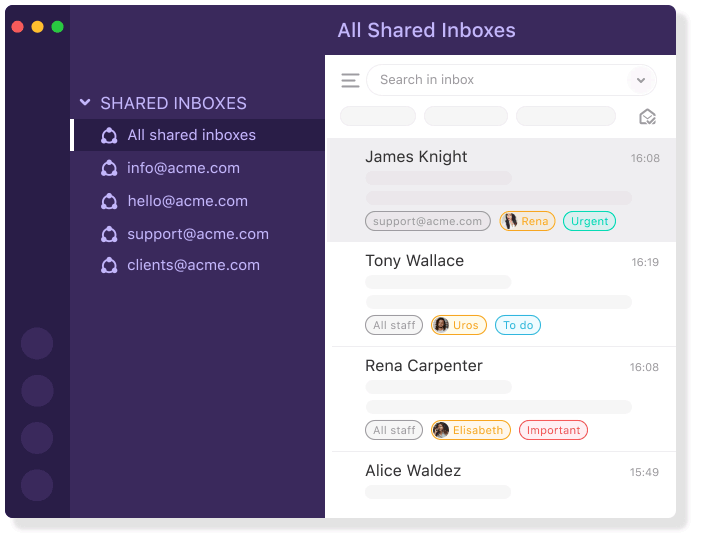 What to pay attention to when picking a shared inbox tool
There are a few important factors to consider when you're choosing the best shared inbox software for your team.
1. Simplicity of setup
It's one thing to decide on a shared inbox tool, another one to actually implement it. When you're picking the tool that's going to best fit your team, take into account how complicated it might be to move your current systems over to it.
How much time will you need to spend to set up this particular new tool for yourself and your team? Does it feel complex? Or does it feel intuitive to you already? Hopefully you've had a chance to try out the software through a free trial, which should give you a clear picture of the initial time investment needed.
2. Simplicity of use & whether your team will love using it
How intuitive does the software feel on a day-to-day basis? Are you able to move over and improve your daily workflows without a hitch?
Simplicity of use is an important factor in whether your team will love using it or whether they will try to find any reason each day as to why they couldn't get it to open.
3. Does it work with your email provider?
Some shared inbox tools are only built for Gmail users, others don't support IMAP email servers. When picking a tool that will be the right fit for your team, make sure to consider your current email provider, as well as the possibility of moving your systems in the future. You want a shared inbox that can fit your current and future needs.
4. Price for the size of your current and future team
Most shared inbox solutions are priced per user, so it's good to do some mental math before committing to a tool. How much would the tool cost for your current team? What if you love it and want to use it for your entire business? Consider carefully whether a tool becomes prohibitively expensive as you scale, or whether you can get the value that you need.
5. Is it an all-in-one solution? Can you manage personal as well as shared emails? And does the tool offer personal productivity features?
If you pick the right shared inbox solution for your team, it's likely they will spend hours and hours each day using it, as their own personal "command centres". To make the most of the time invested in this tool, you want to pick a shared inbox that can handle both personal and shared email addresses, so that your team can seamlessly collaborate on messages that were sent to them directly, as well as those that came to info@ and similar inboxes.
To make your team efficient, you'll also want to pick a tool that focuses on features that make your team's day-to-day more productive – the ability to filter out specific views and only see what's been assigned to each agent, to filter by tags, to quickly see any new notifications and be able to achieve inbox zero. Those are just a few of the features that are good to keep an eye on if you're investing in a tool that will finally make email work for your team.
6. Access to insights and automation
Finally, if you're picking the best shared inbox tool for your team, you'll want one that offers visibility to managers and administrators into what's going on on a day-to-day basis, and helps them discover why things are working, or not working as it may be.
Is workload distributed equally? Are all members of the team responding consistently and at speed? Can you take the busywork out of daily schedules and automate parts of your workflows to make sure your teams can focus on what they do best – serving their customers? These are the questions that will help you discover if a tool you're considering is right for your team.
7. Shared inbox specific features
If you're going to invest time and resources into upgrading to a shared inbox tool, it's useful to consider which features might be crucial for your team. The most useful shared inbox features include:
Assigning & resolving emails
Private email notes
Collision detection
Automated rules
Round Robin functionality
SLA reminders
Canned responses
Insights & analytics
Shared labels
Filters for individual productivity
Team chat & 1-2-1 messaging
The 9 best shared inbox tools
If you're ready to dive deeper, here are some of the best shared inbox tools on the market right now:
Loop is a simple yet powerful shared inbox loved by small and medium sized teams. It's been built with the familiarity of an email client, so it's easy to set up and use for any teams that are used to handling customer messages via email.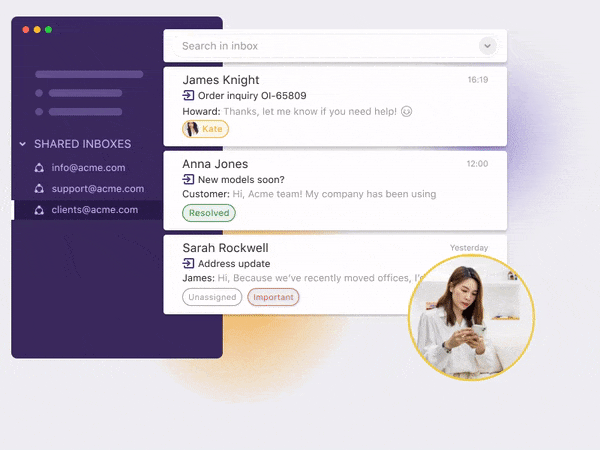 Best for: Teams that want a simple to set up and simple to use shared inbox
What you'll like: Loop is easy to implement and works across all email providers. It combines all of the key shared inbox features (including powerful automation) but also brings in team chat and collaboration, so it can replace multiple tools. Its personal productivity focus means teams use it for shared as well as individual work emails and it becomes the one go-to tool for your team.
What you might not like: It's aimed at non-enterprise customers so doesn't focus on integrations with external tools.
Price: Starting at $10 per user per month (billed annually)
If you're already using a Google Workspace, Google's Collaborative Inbox can be a good initial step to try out managing shared emails. Collaborative Inbox exists as a function of Google Groups and allows multiple users of a Group to set up shared access to incoming emails, assign them, and resolve conversations. For teams operating their small business on Google Workspace, it comes without additional costs, which is how it gains a spot on our list.
As it's not a true purpose-built shared inbox, it does however come with significant limitations, disadvantages, and workarounds. The Collaborative Inbox interface looks nothing like a standard Gmail UI and feels rather unintuitive. Your team will likely need significant time trying to adjust to using it, plus it will end up missing some of the key features.
Best for: very small teams that are using Google Groups
What you'll like: No external tool necessary, just an extension of your Google Workspace
What you might not like: Limited functionality and not intuitive use through Google Groups
Price: Free for current Google Worspace users
If your team is already using Outlook and wants to try out managing emails together, Outlook's shared mailbox may be a good starting point. Account administrators can create a shared inbox straight from Office 365 and invite teammates to have access to view, respond to, and manage incoming and outgoing emails.
Best for: small teams that are using Outlook
What you'll like: No external tool necessary, shared mailbox is an extension of your Office 365
What you might not like: No way to truly collaborate right within the shared mailbox and no insights and analytics.
Price: Free for current Office 365 users
With Hubspot's conversations tool your team can view, manage and reply to incoming team email messages straight from the Hubspot CRM.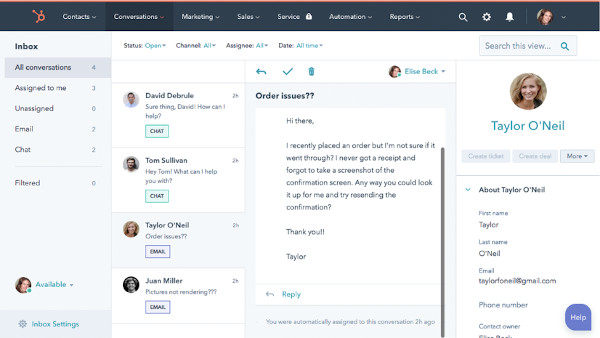 Best for: small teams that are heavily using Hubspot CRM
What you'll like: Pulls in Hubspot CRM information; adds live chat and FB Messenger functionality.
What you might not like: Connects only via team email aliases; not purpose-built as a shared inbox tool so lacks some functionality.
Price: Free as part of Hubspot CRM
Front is a multi-channel customer communication hub that's optimized for teams that want to scale their customer experience in a human way. It's packed with functionality and can work across a large range of use cases.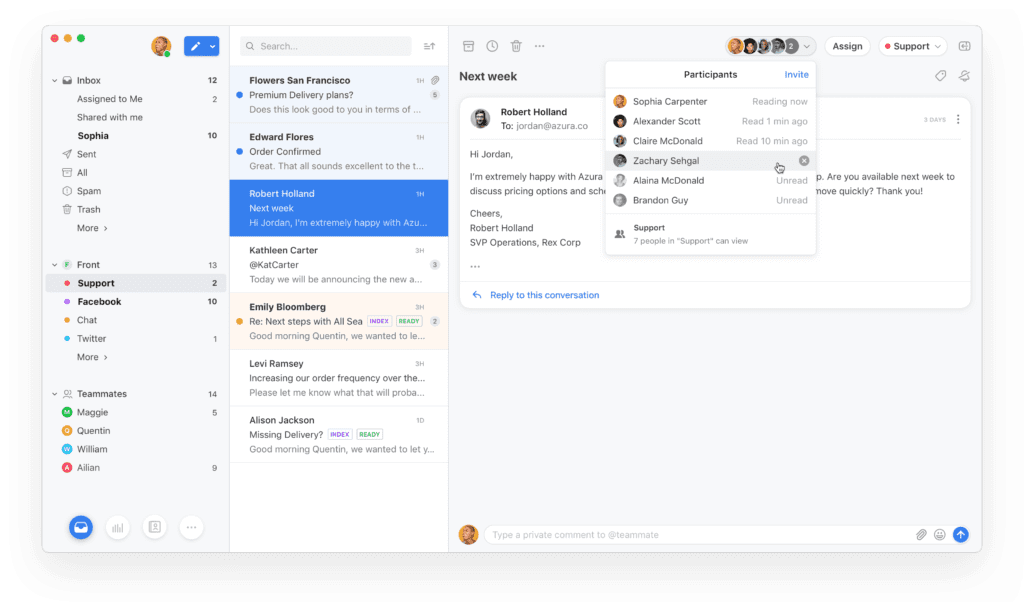 Best for: Enterprise teams or those who need complex advanced functionality
What you'll like: Integrations with dozens of other tools and ability to see email, sms, live chat messages together in one tool
What you might not like: Higher cost per user to get the full functionality; a fairly complex interface to set up and get used to for teams
Price: Starting at 19$ USD per person per month (billed annually)
Help Scout focuses on email management for customer service and has built a mighty shared inbox aimed at CS teams.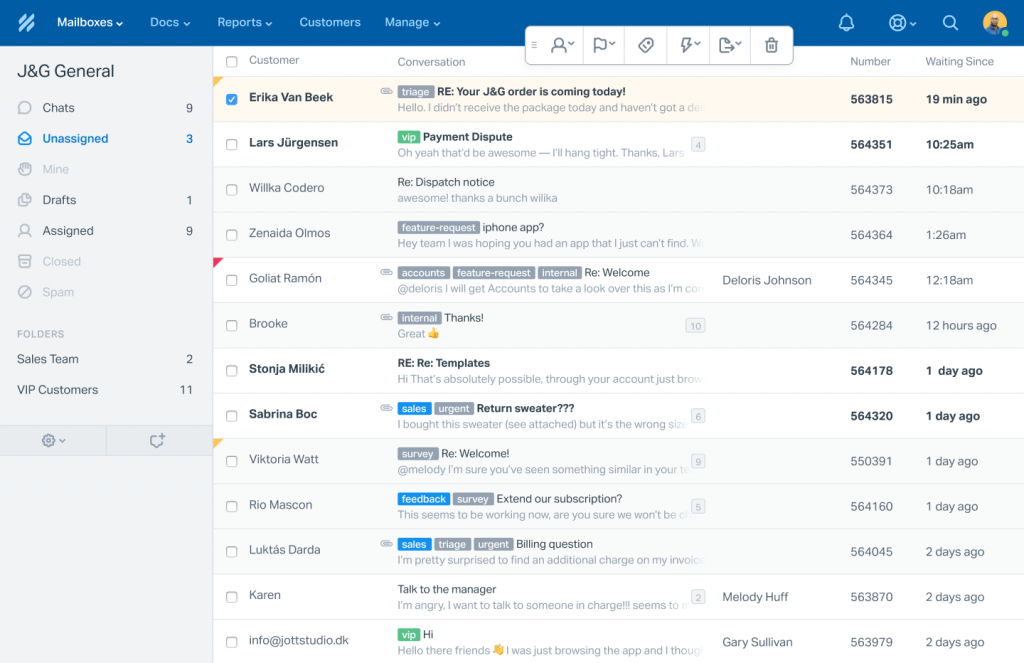 Best for: Customer support teams that want a full suite of help desk tools to optimize their customer experience
What you'll like: Help Scout also features a knowledge base, live chat and dozens of integrations.
What you might not like: Help Scout started originally as a help desk and so can retain that feeling sometimes.
Price: Starting at 20$ per person per month (billed annually)
Gmelius is building a collaborative workspace right inside your Google account and can offer Kanban views for the emails that you're managing as a team.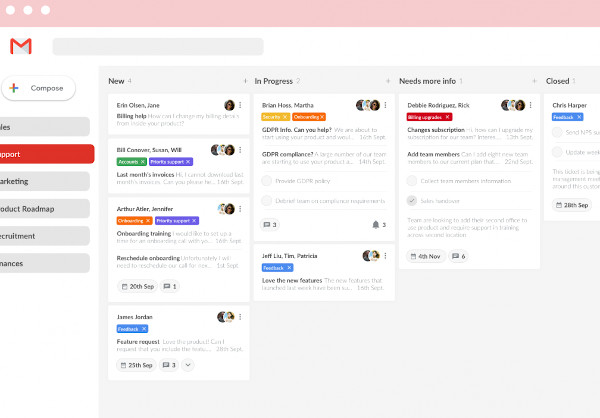 Best for: Teams that want more than just a shared inbox right inside Gmail
What you'll like: Flexibility of different use cases & setups
What you might not like: Only works with Gmail accounts and can bring a bit more complexity than a straightforward shared inbox tool
Price: Starting at $12 per user per month
Hiver markets itself as a Gmail-based help desk that will help you assign, track and easily access emails that are coming into your shared email accounts.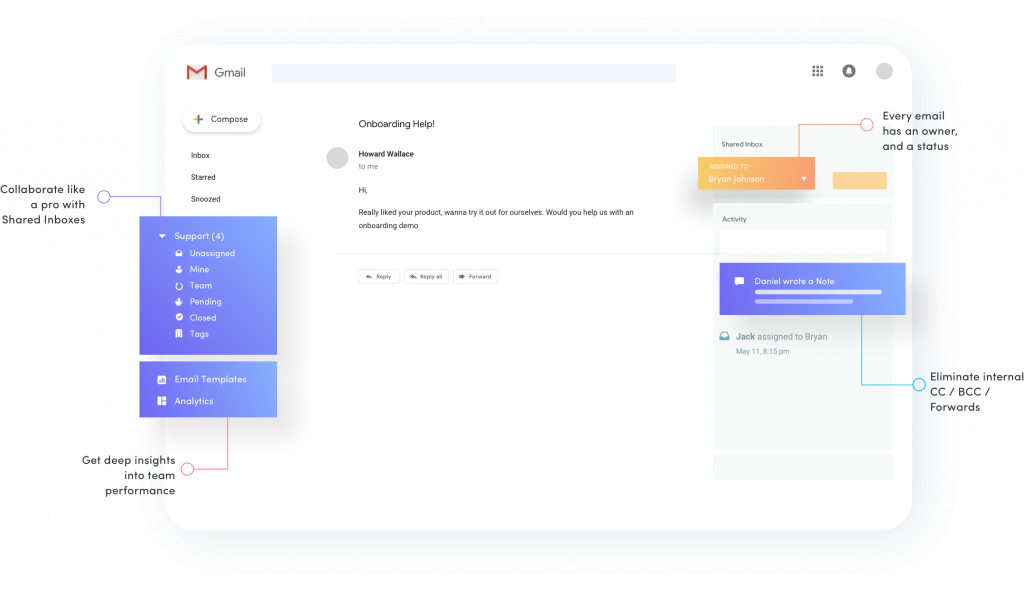 Best for: Teams fully bought into Google Workspace
What you'll like: Lives right inside Gmail but extends its functionality
What you might not like: It works only for Google Suite users, and not Outlook, or other email clients.
Price: Starting at $12 per user per month (billed annually)
Missive is a team inbox and chat tool that operates as a standalone email client. It also helps people manage Facebook, SMS and Twitter accounts.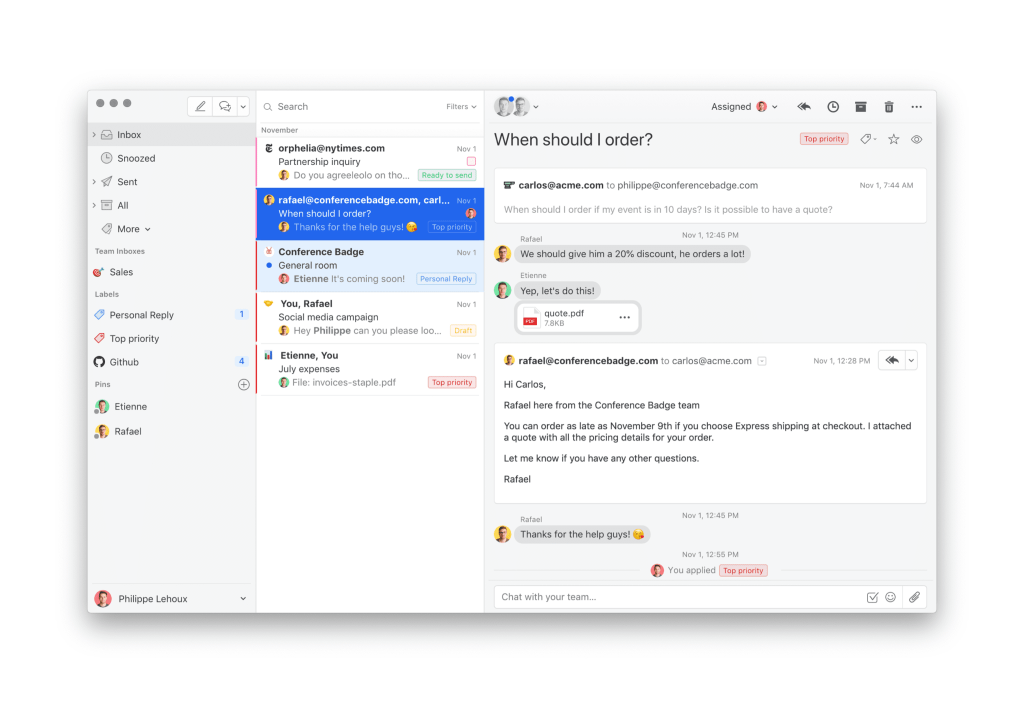 Best for: Teams on the lookout for a standalone email client
What you'll like: You can manage personal email inboxes as well as shared ones.
What you might not like: As mentioned above, Missive focuses on email management and being a great email client first and foremost.
Price: Free plan if you don't mind very limited email history
Ready to try out a shared inbox for your team?
Loop Email is a simple yet powerful shared inbox designed for teams that want to get all incoming messages under control.
Try Loop free for 14 days and discover:
Shared inbox with powerful filtering options to optimize individual and team productivity
Ability to add notes to each email thread and have quick conversations with your team
Powerful automated rules that will save you hours each week
Round robin assignments
SLA reminders for your team
Collision detection so you never send two responses to a customer
Shared tags, templates
Snooze functionality
Team-wide chat channels
Analytics and regular reporting to drive insights for your team