A shared inbox is an inbox that allows multiple people to receive, read, manage, and reply to emails inside the same email account.

We're not blaming you if you've never heard of the term shared inbox before. It's a solution that has only started gaining traction recently. One big reason behind this is the fact that, for years, Silicon Valley gurus have been promising us the death of email.

"Email is messy, it's unproductive, it's slow, it's killing your teamwork … you should definitely try this app that starts with S!"

– Just about everyone in 2015
But what they were selling didn't make us more productive, faster or better at working in teams. Actually, for many businesses reality hit hard: adding more apps doesn't solve the email overload problem.

It adds to the noise.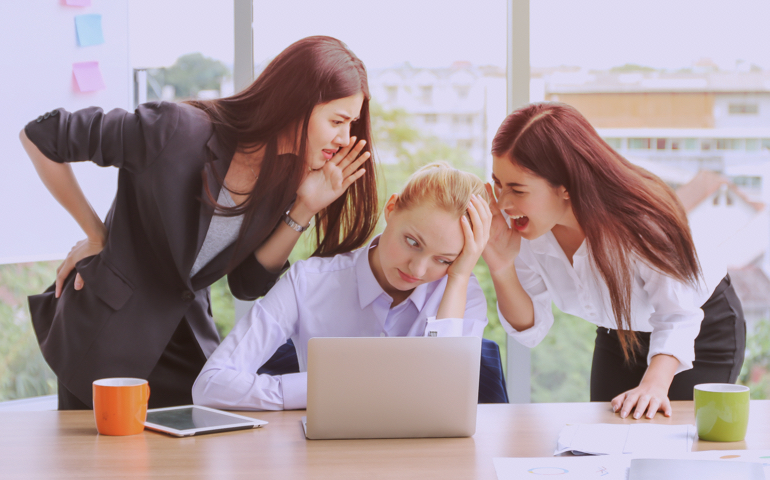 Email is not dead!
That's why nobody is promising to "replace emails" anymore. Email is not dead and won't be for a long time: there are still over 6 billion email accounts, with predictions that this number will reach 7 billion by 2021 (Radicati).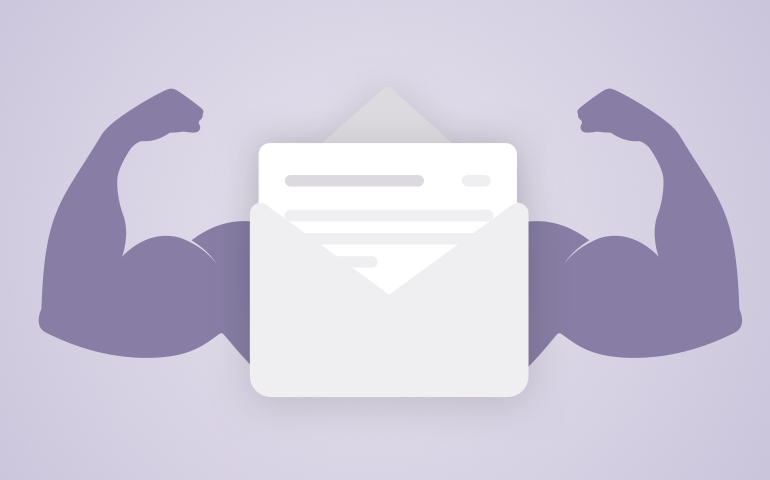 A large chunk of all business communication, communication with clients and official organizations is still held on email. It's universally accepted and it doesn't require you to stay locked in one platform. Email is in a way our digital identity card, and as such, it's not budging.

… but it just isn't made for teamwork.
Despite the wonderful things email lets us do, it lacks some key things to also be great for teamwork:

No easy way to share information. If you want to share an email with someone, you forward it. And if that's where the story ends, you're pretty lucky. Very often, these forwards turn into confusing tangle of emails, multiple people copied, information buried … and that's how we all learned to hate email.
No ownership. It's often impossible to know who's responsible for an email that lands in an inbox that a team manages together. This lack of clarity makes it a perfect breeding ground for missed emails or duplicate replies.
No quick way to collaborate. Do you send an email when you want to touch base with someone? Of course not – it's 2019 after all and we're all on messaging apps. Emails usually require a more formal formatting and is less urgent by nature, hence – not ideal for prolonged collaboration and quick exchanges.
Too slow for efficient customer service. Teams dealing with customers are aware of the importance of speed when it comes to communication. According to Jeff Toister, an expert on customer service, the average company takes 12 hours and 10 minutes to respond to an email, while research has shown a response time of 1 our can satisfy 89% of customers.
But the way to make it better is not to add a plethora of extra apps but to make email itself better. That' where shared inbox comes into play.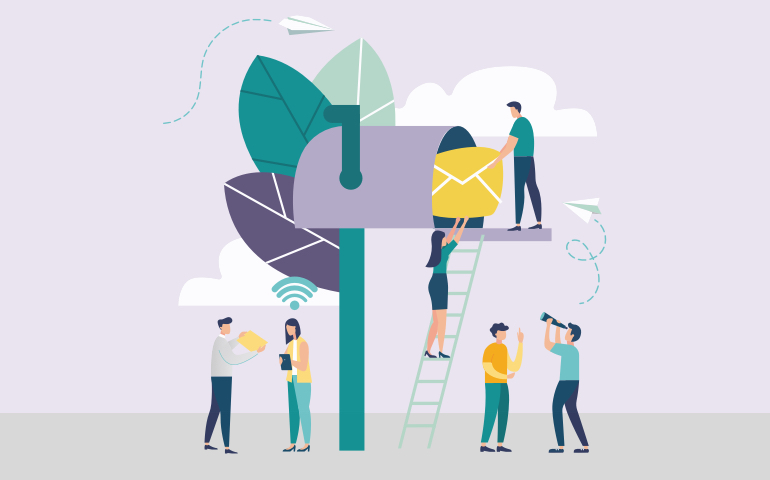 To be fair, inboxes and email accounts that are shared with multiple people are not a completely new invention. Ever since email have made their way into the business world, people had the need to manage them with the help of others. Until recently, the available solutions, have been … well, rudimentary to say the least:

Sharing one email account by giving the password to all the team members.
Many businesses create an email account (such as info@ or sales@…) and give access to everyone. Each person logs in with the account credentials, so they're not actually represented as themselves.
Apart from the obvious problem of security and the fact that many email service providers forbid that, there's also an issue of organization. Emails marked as read, no control over who's handling what and log-in issues… chaos.
One manager in charge of the workload.
Some companies have adopted a way of handling these email accounts by appointing someone who's in charge of all emails that land in the info@ inbox. That person then forwards the email to the right people in the team.
Forwarding, of course, does not end here. Emails with new information about the project have to be forwarded again and again, causing piles of confusing threads. This way defeats the purpose of a shared inbox – because it's not actually shared with anyone.
Basic software solutions
Some early solutions derive from Outlook and similar email clients. They allow people to access the emails, but very rarely offer more than that. This is a big missed opportunity to make organization and delegation easier.
Heavyweight CRM and customer service solutions.
Very often these types of emails are used for customer services, customer support, sales departments etc. That's why there are many software solutions on the market.
But these are not practical for every team out there: many are packed with features people rarely use and they come with a steep learning curve. Instead of making your life easier, they add on to the pile of things you have to manage.
DIY approaches
People are creative and if there's no solution out there (or if all the available solutions are too bulky or too expensive) they make their own. Below are just two examples of teams coming up with a way to manage their shared inbox for a lack of better software:
Several of us share a mail@. It is done via G Suite. I am the main person for checking emails. We use labels and to get around the problem of vital emails being missed, I usually snooze emails so that it's pushed to the top of the inbox. It used to work well but people less tech minded are replying to emails I've already dealt with… I'm unsure how they're missing conversation threads!

My company uses Gmail. You can 'star' emails with different colours. Everyone has their own colour, so we just mark ones we're on with our own colour star. Works when you're a small team at least.

Far from ideal, wouldn't you agree? That's why more sophisticated shared inboxes have sprouted in the past few years.

You may have encountered a shared inbox before and you simply know it under another name:

shared mailbox,
team inbox,
group inbox,
inbox for teams,
shared emails,
some even throw distribution lists into the same basket (they shouldn't).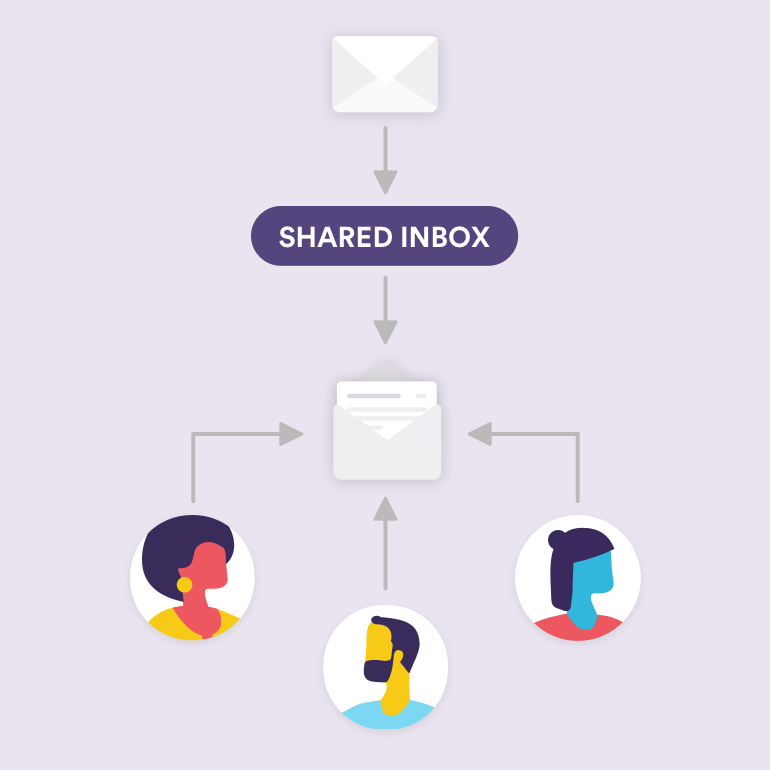 Indeed, this handy solution just can't seem to decide what to call itself!

But, as a well-known writer would say, what's in a name? – all these solutions are based on the same need and solve it in a basically the same wayA shared inbox is an inbox that allows multiple people to receive, read, mange, and reply to emails inside the same email accoun:

A shared inbox is an inbox that allows multiple people to receive, read, manage, and reply to emails inside the same email account.
At Loop Email, we've developed a solution that brings shared inboxes to a new level. It' s better way to run your business!
How does it work? Check out the video below!
Clear overview
When multiple people are handling incoming emails in one account, it's easy to lose track of the big picture. Our shared inbox changes that. Every email is visible in the shared inbox and the whole team has access to it. You're are able to easily chat around all the emails in private.
Clear ownership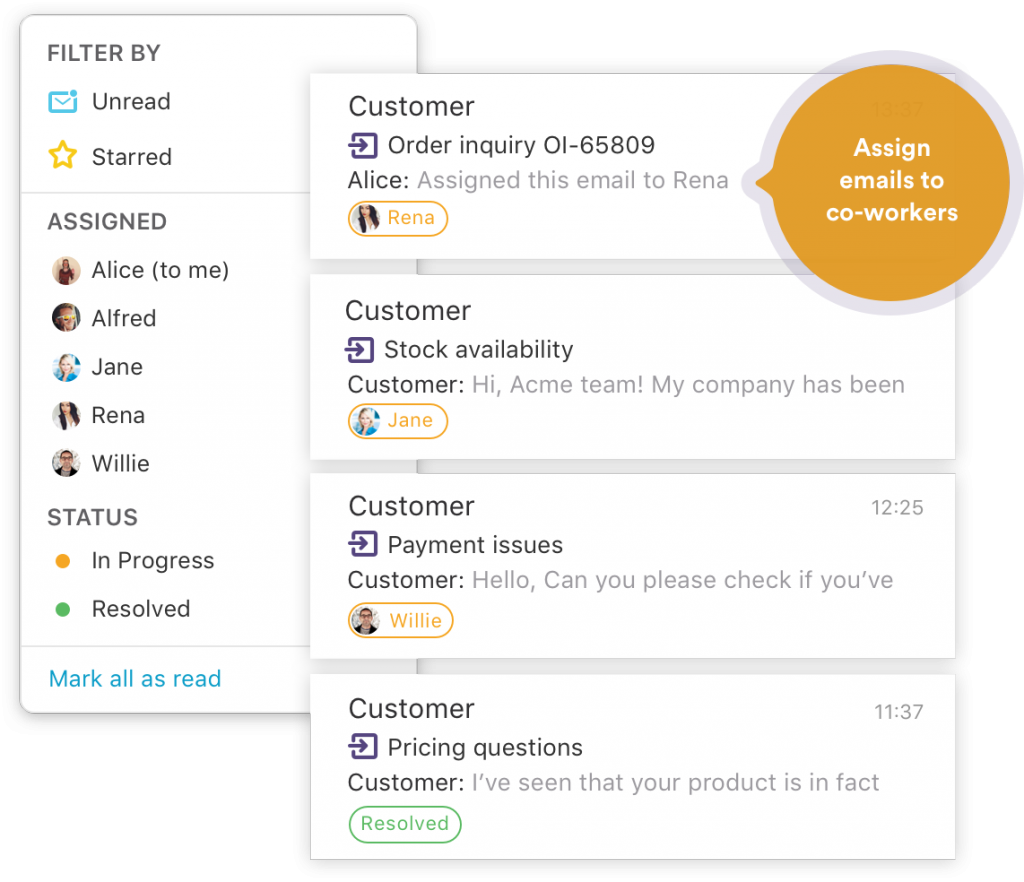 Two people in a team reply to a client email in two very different ways. Yikes! If you've ever experienced that, know what we mean. The best case scenario is a bit of awkwardness, the worst loss of a client …When the email lands in the general account inbox, it's easy to assign it to a team member (or yourself) and once the issue is handled, you can just mark it resolved.
All in one place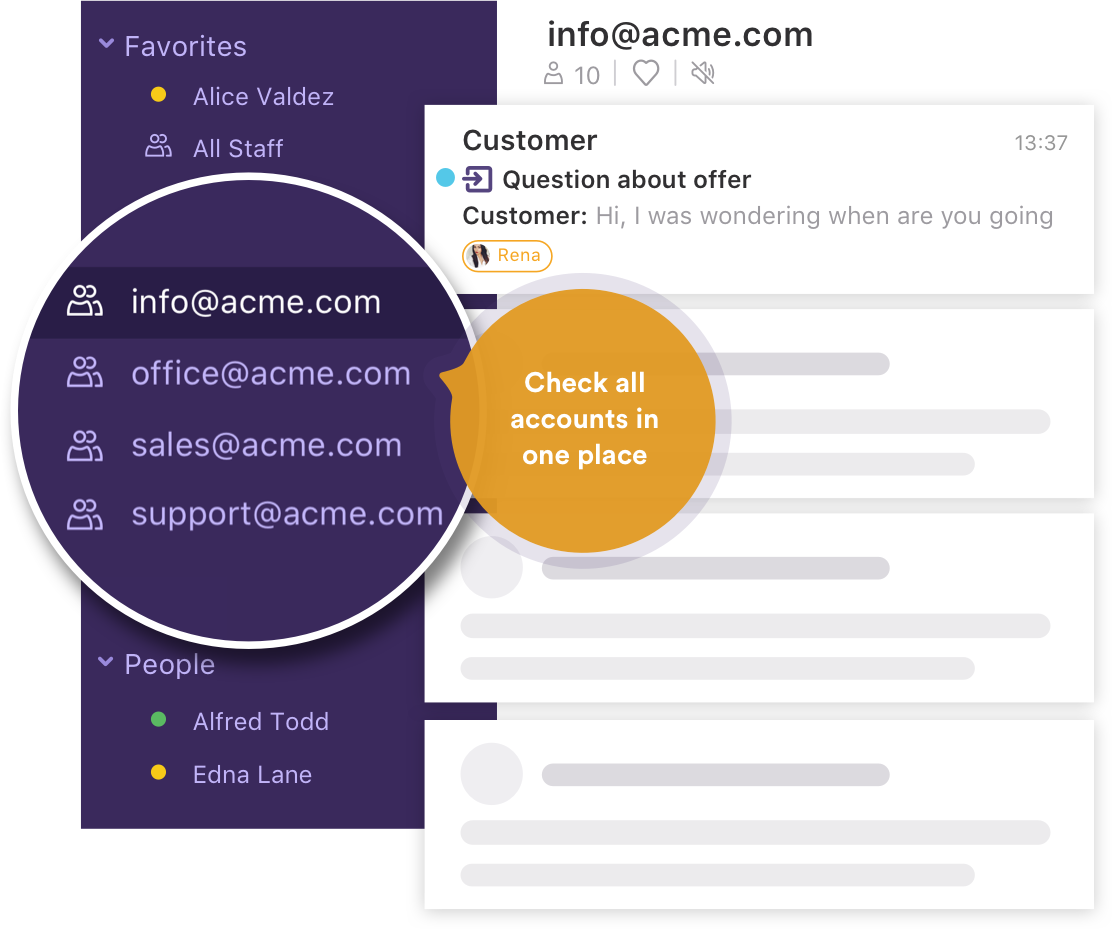 Shared inbox is located right where you're working – your existing email inbox. Your public email account turns into a place of teamwork. Our shared inbox combines your external emails, internal emails, files and chats in one app. No more switching accounts or apps.
Fast problem-solving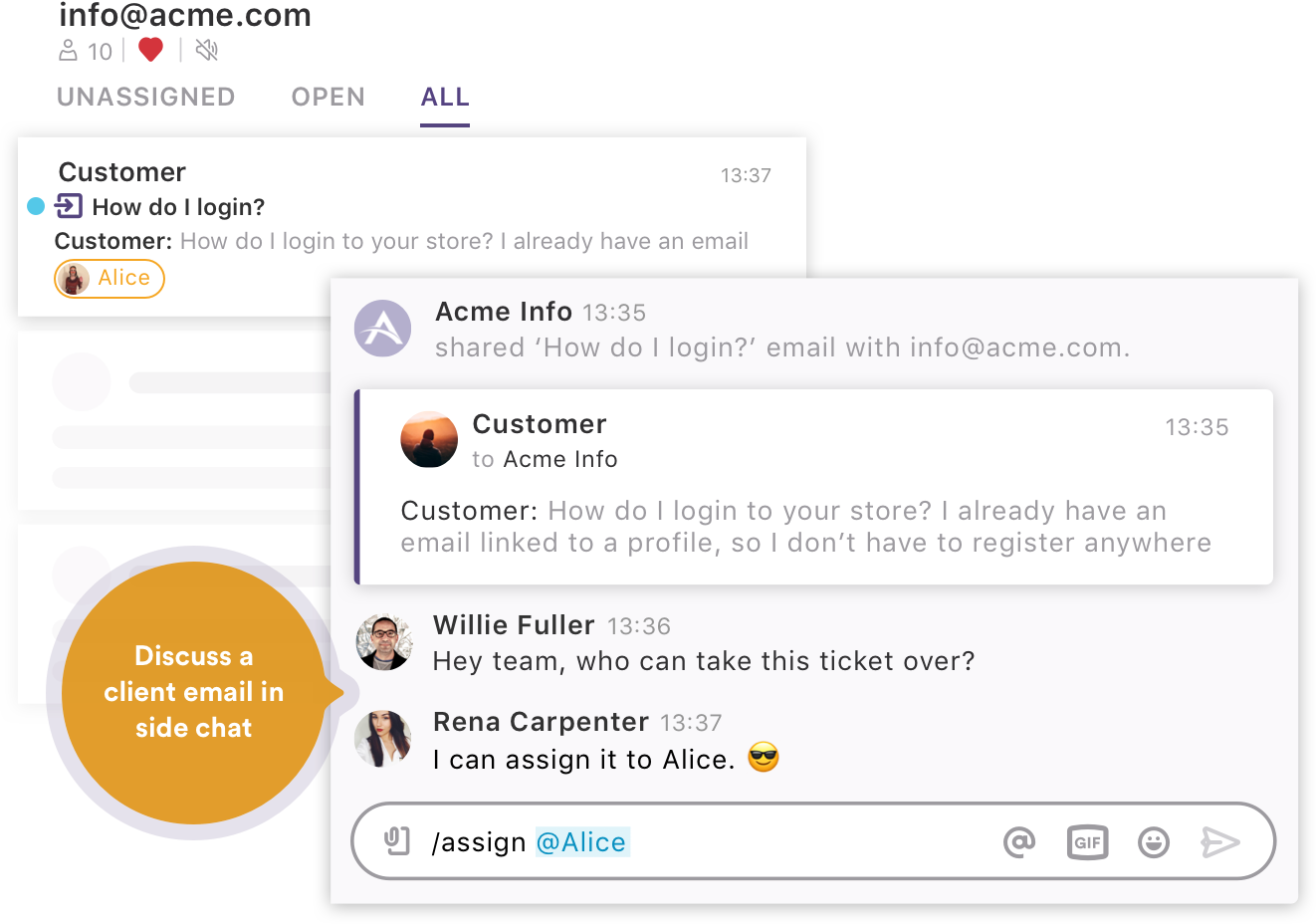 Our shared inbox enables you to chat with your team around emails that land in the general email account. This way your team has more context and control over the crucial emails, decisions and information. Everyone will always see who is working on what and with whom.
This makes solving issues much faster – no need to explain everything to your co-worker in detail to keep them up to speed! If you need additional help from someone in a separate department, you can very easily notify them with @ mentions in the chat.
That significantly shortens the response times to customers and co-workers alike – in a time when response time expectations are becoming higher, according to the latest research.
Shared inbox is a great way to share and spread information across a team or department. If your business has a public domain account (like: info@, sales@, support@ or office@) or you carry out a lot of customer support through email then a shared inbox is ideal for you.


All sorts of teams that handle many external emails can benefit from it, some of them being:
Customer support and e-commerce
The shared inbox is a lightweight CRM solution for smaller teams that transforms the inbox into a powerful customer support hub. Since everything is kept on email, the learning curve is practically nonexistent and there's not need for the IT department to hook it up. Support agents can exchange information with the other departments and give speedy responses to customers.
Advertising and marketing agencies
Shared inbox keeps communication with clients, agency departments and contractors under control, easily accessible and search friendly. Project managers can easily assign emails to assistants, creatives can exchange ideas, and accountants can keep track of incoming invoices.


Travel agencies and tour operators
Keeping all bookings in check, responding quickly to eager travelers and exchanging info with other people in the agency is made easier with shared inbox. Travel agents can share the workload by assigning emails, exchange useful information in chat and always have an overview of all incoming requests.
Accounting firms and departments
Incoming invoices can cause chaos in email inboxes, but shared inbox organizes it in contact-focused channels, while also archiving all attachments in one place. Gathering information or getting approvals from co-workers is done with the help of side-chat and assigned emails, making dealing with emails fast and efficient.
All levels of your business will benefit from shared inbox in a certain way. See how:
| COMPANY | TEAM | INDIVIDUAL |
| --- | --- | --- |
| Satisfied clients | Better collaboration | Organized emails |
| Time savings | Overview over projects | No app switching |
| Less stressed employees | Clear ownership | Faster work |
| Stats for improvement | Greater transparency | Accountability |
Still in doubts whether this solution is the answer to your teamwork challenges? You won't know for sure until you try it. The good news is, it's completely FREE, so download it and give it a go or schedule a demo to get personalized advice from our experts.
---